by JohnEvans on Apr.05, 2008, under Uncategorized
So, traffic was terrible and I nearly got lost a couple of times (fortunately, the hardest part was reading my map while driving)…I got to I-Con about 6:30 PM (I had been shooting for 6). Then I picked up my registration card and walked over to the RPG/Boardgame room.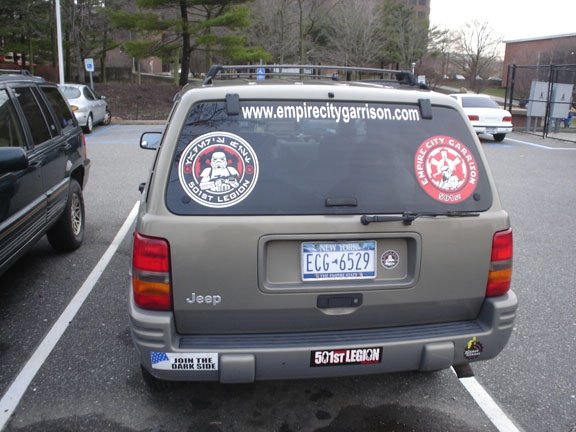 In the parking lot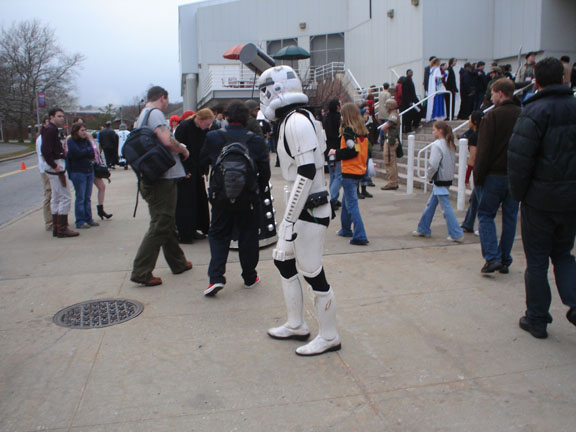 Cosplayers outside registration 1: Stormtrooper
Cosplayers outside registration 2: Davros (sorta)
Cosplayers outside registration 3: The Littlest Redpill
Cosplayers outside registration 4: A closer look at Davros (it was playing some sort of music…)
Blurry short of registration, but at least you can see how hectic it is
Blurry registration 2: Glomp Me!
Blurry registration 3: Slartibartfast Construction
Blurry registration 4: Female Satyr
Cosplayers walking along 1: Aerith
Cosplayers standing around 1: I don't know who this was supposed to be, but Chris Adams seemed to.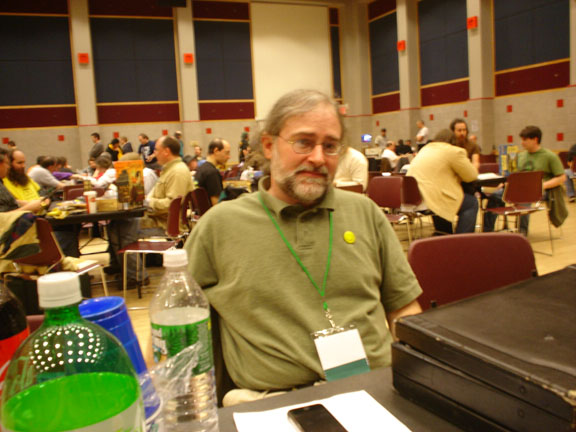 Chris Adams
There I happened to meet Chris Adams, one of the designers of Continuum. Of course I'd met him last year (gotten Further Information from him, in fact!). He was ready to run a game of Continuum…the schedule said 6 but he said 7 "because, huge lines…". So since had one player (myself) he decided to start at 7.
That was an interesting experience for me, in several ways. Continuum, well, I like it a lot even though I haven't gotten to play it much…It's all about time travel and the puzzles thereof. That part I think I can handle pretty well. It's just a matter of taking good notes. 😉 And I do enjoy planning out little time travel excursions and keeping track of where I've been.
The problem comes with interacting with NPCs…As some of you may know, I've had problems with social interaction for, well, my whole life. So, if my character is supposed to convince another character of something…or get them to do something…How do I do it? It's not something I've ever practiced. Not only that, I don't really think of that as a solution to problems. "Why don't you ask him to…" Well, no, I usually don't think of doing that. It just doesn't come naturally to me.
As you might guess, it's not a problem confined to roleplaying.
And about roleplaying one-on-one…It's nice because you and the GM can negotiate your own pace and take your time as long as neither of you is bored. (I certainly hope Chris wasn't bored…if he was, he didn't show it, which was good!)
The basic roleplaying skills, though, I think I'm starting to get a handle on those. (Except dice. Dice hate me.)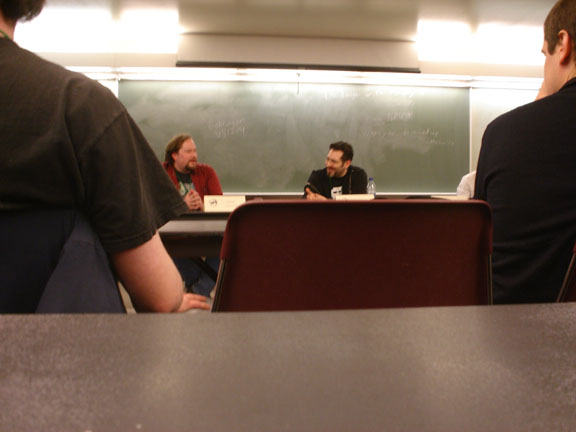 Dave Fooden (on the right) and someone else I forgot; and there's someone else off to the right of the shot, but oh well…
After that I went to "Game Dissection 101: Mechanics and Systems", a panel with several people including Dave Fooden, one of the other Continuum designers. That was…Kind of interesting, but ultimately a little disappointing. I think the speakers didn't feel like they had to talk about a particular topic, drive the discussion, respond quickly to questions…It was kinda laid back. Which is, well, there are certainly lots of ways it could be worse…
Cosplayers sitting around 1: Random
Cosplayers standing around 2: If you look closely at the guy in black just left center with a white collar/epaulet thing…he has a name tag hovering above his head. Must be an MMO thing.
Cosplayers standing around 3: I have no idea who she was supposed to be…maybe just herself…but she definitely turned heads.
Cosplayers walking along 2: Rather dark, but I think you can see the important one!
After that I wandered over and considered watching Bible Black with all the cosplaying girls (and yes, there were a number of cosplaying girls lined up to have their IDs checked), but I decided not to and came home instead.
Now to bed, and then…tomorrow! 😉
:conventions, i-con
No comments for this entry yet...