Tag: dark star
by JohnEvans on Jan.18, 2009, under Uncategorized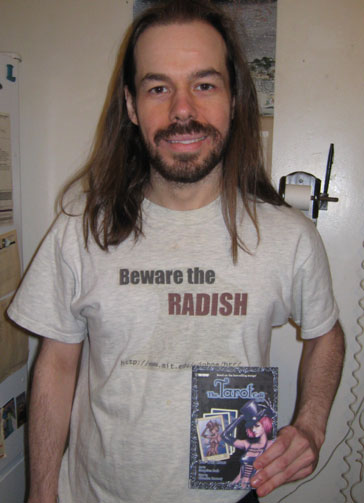 Yep, that's me, with a book; The Tarot Cafe Novel vol. 1: The Wild Hunt. This is a novel based on the Tarot Cafe manhwa series (manhwa = Korean comic books). An author named Chandra Rooney (a.k.a. sora_blue) was commissioned to write The Wild Hunt.
If the name "Chandra Rooney" sounds familiar…she was also known as "Lady Chaos", active years ago around ImproFanfic and creator of Dark Star!
And now she's got a published novel. 😀
(Incidentally…the URL on the shirt is outdated. 😉 )
29 Comments
:beware the radish, chandra rooney, dark star, improfanfic, pictures, writing
more...